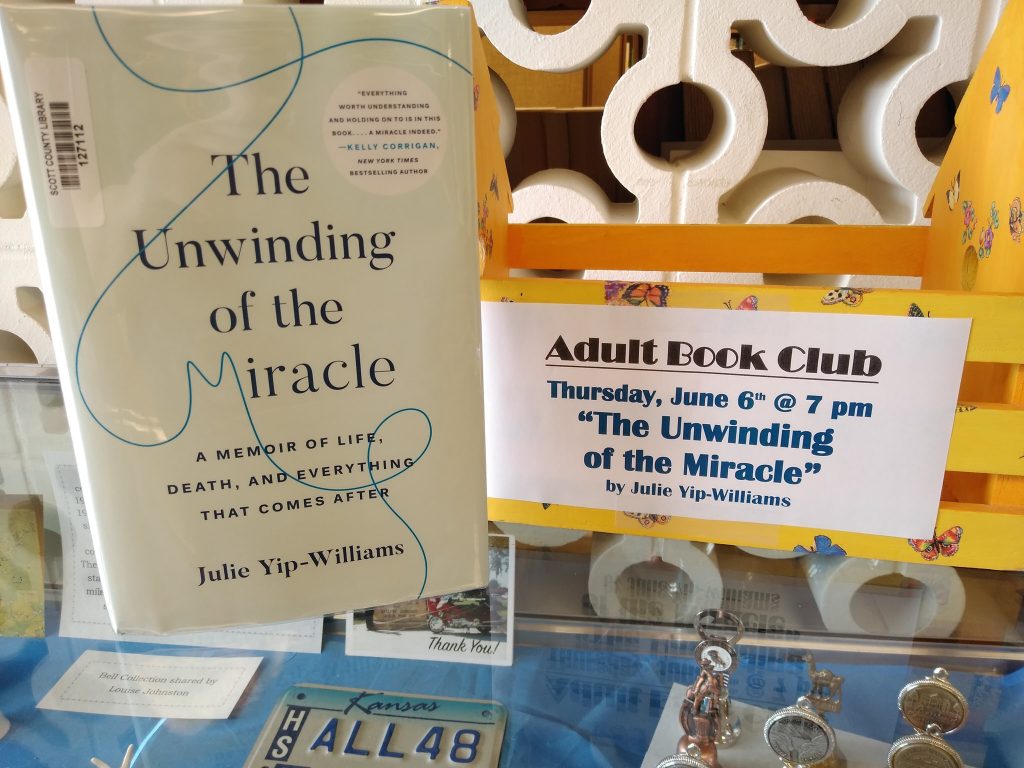 Join the ladies at the Legacy Suites in an enriching discussion of their latest book discussion book
Thursday, June 6th
at 7pm
at the Legacy Suites!

Book being discussed this month:
"The Unwinding of the Miracle"
By Julie Yip-Williams
Want to know what they're talking about?? Well you can get in on the action by stopping by the library and picking up a copy of the book. Multiply copies available by front desk for your reading convenience! A delightful discussion and a decadent treat, who could ask for a better evening??!
Past Book Club titles read:
Where the Crawdads Sing by Delia Owens
Killers of the Flower Moon by David Grann
The Masterpiece by Francine Rivers
What She Left Behind by Ellen Marie Wiseman
The Chaperone by Lisa Moriarty
Before We Were Yours by Lisa Wingate
Becoming Ellen by Shari Shattuck
Invisible Ellen by Shari Shattuck
Where the Wind Leads by Vinh Chung
A Land Remembered by Patrick D. Smith
Voices from Chernobyl by Svetlana Alexievich
A Street Cat Named Bob by James Bowen
A Beauty Refined by Tracie Peterson
Half Broke Horses by Jeannette Walls
A Silver Suitcase by Terrie Todd
The Glass Castle by Jeanette Walls
Life is So Good by George Dawson & Richard Glaubman
The Immortal Life of Henrietta Lacks by Rebecca Skloot
No Other Will Do by Karen Witemeyer
Between Shades of Gray by Ruta Sepetys
The Nightingale by Kristin Hannah
A Man Called Ove by Fredrik Backman
Rainwater by Sandra Brown
Every Storm by Lori Wick
The Artisan's Wife by Judith McCoy Miller
Diary of a Waitress by Carolyn Meyer
Under the Overpass by Michael Yankoski
Children of the River by Linda Crew
Guide Me Home by Kim Vogel Sawyer